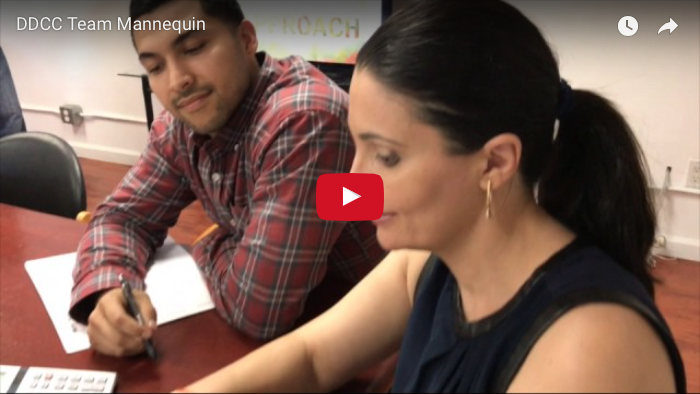 I always say, "People don't do business with companies; they do business with people."
Sometimes we get so caught up thinking of companies as entities; instead of a group of individual people with their own frailties, families and personal lives. Here at DDCC, we have eight team members who benefit each time a client chooses us over the competition. Our clients are not simply selecting "DDCC the company," you are electing to help and support all eight DDCC team members with our own personal and professional goals. Each time one of our clients awards us a project, you impact not only our valued team members, you benefit those team members' children and their entire family's wellbeing. In short, your choice makes a difference in each of our lives.
As a small company that thrives on dreaming big and delivering bigger, we are forever in a state of gratitude for the clients who allow us to grow. Each and every project is an opportunity for us to expand our creativity and resourcefulness; and every deliverable allows us the privilege to continue to serve our families and loved ones. Between us, our team has children from elementary school to college age, homes we love, parents we care for and friends and family with challenges to conquer. Our work is our refuge, our support and our delight, and our clients choices make that all possible.
It's this person to person impact that also inspires us to do our best work with our employee newsletters and communications. The employees we interview who proudly tell us about their important projects, accomplishments and personal highlights feel more valued than they did before. Resulting stories become points of pride for themselves, and their co-workers, families and friends. Studies note that feeling valued is the number one reason why people enjoy their jobs; and the time and talent our editors take to let employees tell their stories make that happen. The designed pieces impact the employees and our client companies. And most importantly, they make us all feel really good about what we do.
The same is true of DDCC's marketing/communications projects that impact customers—collateral, social media, websites, event materials and branding among them. It's a trickle-down effect; the greater impact our marketing/communications projects have on our clients' growth, the more that success impacts the company's people. In growing companies, long-term employees often see their roles expand; short-term employees see greater opportunity; and job-seekers feel more rewarded when they choose to work there. And with struggling companies, that marketing project is often the proactive jump-start that propels them forward. It's a win-win-win for sure, and it always involves and impacts people.
We hope you, our valued clients, reflect on how privileged our team feels to have a direct impact on your customers and your employees when you award us your projects large and small. And please know how appreciative we are—as a group of individuals—for your choice to impact each one of us and our families as well.